Triple Line Auto Dialer DialExcel.com Allows you To Dial WorldWide
Automated Phone Dialer ! Only 25$ A Month!!
A REVOLUTIONARY NEW WAY TO DIAL!
Dial right through your Excel file!
Instead of uploading your list to a dialer and risk losing any data or notes; we bring the dialer to your data!
Dial right through your Excel file.

Leave a message.

Use it as a caller ID.

Call tracker included for FREE.
Get started today at only $25/month.
DailExcel Automated Dialer is a powerful web based dialer that highly improves efficiency for outbound calling campaigns. Our dialing system allows you to call multiple phone numbers without manual dialing. Save time by being connected only when a live person picks up!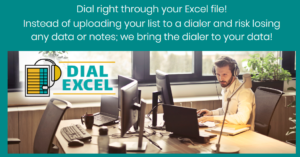 Triple Dialer!
Select up to 3 numbers to be dialed simultaneously and talk to 3x more prospects per hour than using a single line auto dialer.
Run your call center more efficiently
Whether you're an individual calling many contacts from a list or a large call center with hundreds of seats – DailExcel, a web browser and 3 minutes of your time is all it takes to jump-start your campaign.

We also provide:
Video One – The "SECRET" about Inheritance Niche Market >>
http://successorsdata.com/Q-A-Blog/wp-content/uploads/2017/03/Probate-Trust-Inheritance-Property-Opportunities-Overview..mp4
Video Two – Actual Example of a "Trust Deal" with 100K Equity>>
http://successorsdata.com/Q-A-Blog/wp-content/uploads/2017/03/SD-How-to-Get-the-Most-of-the-Successorsdata.mp4
Video Three – How to Find Inheritance Properties in the MLS?>>
http://successorsdata.com/wp-content/uploads/2017/03/Trust-is-a-Standard-Sale-1.mp4
Video Tutorials>>
http://successorsdata.com/probate-data-tutorials/
Also, please visit our other marketing tools:
www.EasyExcelAutomation.com
Redfin or Zillow Scrubber, Google Places List Builder …Tools
www.IQdial.com
$49 a month unlimited call from anywhere in the world.
Phone number or email address append to any list is available at 4 cents each.
Sincerely,
Morry Eghbal
www.SuccessorsData.com
10601 Civic Center Dr.
Rancho Cucamonga, CA, 91730
Bus: (909) 315-5330
SuccessorsData.com
Inheritance Real Estate Property Data for Realtors and Investors.
We are a national provider for Probate, Trust, and Inheritance Real Estate Property Records.
Predictive Dialer Software
Find the best Predictive Dialer Software for your business. Compare product reviews and features to build your list.
Recommended Filters
Pricing Options
Popular Features
Users
Deployment
Filter Results
(86)
Recommended Filters
Pricing Options
Popular Features
Users
Deployment