World Class Tools Make TRIPLE DIALER Push Button Easy!!
Dial right through your Excel file with DialExcel.com!
Instead of uploading your list to a dialer and risk losing any data or notes; we bring the dialer to your data!
DialExcel.com Predictive Dialer connects agents only to calls that are actually answered by people, freeing agents from the need to listen to unanswered calls, busy signals, disconnected lines, or answers from answering machines and other automatic devices. DialExcel Dialer uses mathematical formulas to predict both the average time it will take for calls to be answered and agent availability, and adjusts the dialing rate accordingly. TheDialExcel Dialer enables call center agents to dramatically increase their number of live voice connections.
DialExcel Keeps Agents at Peak Efficiency,Exceed Your Revenue Goal, Improve Engagement,Multiple Dialing Mode,Marketing and Sales Automation,Easy. Effective. Affordable.
DailExcel is only 25$ a month
Only 1 account for an unlimited number of agents!
You only need one account, for an unlimited number of agents dialing your unlimited numbers.
Buy phone numbers from Twilio for $1.00 each!
Buy a number for $1.00 and pay just $0.01 per minute as you go!
Triple Dialer!
Select up to 3 numbers to be dialed simultaneously and talk to 3x more prospects per hour than using a single line auto dialer.
Take notes!
Take and keep notes in your Excel file or type them into the Dial Excel system – either way, never lose them again!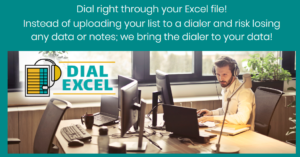 Dial right through your Excel file.
Leave a message.
Use it as a caller ID.
Call tracker included for FREE.
Want More Money? Start ONLINE DIALER
s Mojo Dialer right for your business or is Kixie a better alternative? Your business relies on agents making lots of calls With so many dialers on the market, how do you choose the optimal solution? Following the tried and true method of comparing features and reading online reviews can lead you to the best choice.
Thankfully, we've done the work for you by taking a realistic look at how Mojo Dialer stacks up to Kixie.
The Options: Mojo Dialer and Kixie
Two options for sales dialers are Mojo Dialer and Kixie. Read the breakdown below to understand the best option for your business.
Table of Contents
Overview
Things to Consider
CRM Integration
 Integration to phone service
Onboarding and Support
 Local number options
Dialing Capabilities
Price
 Conclusion
Overview of Mojo Dialer and Kixie
Mojo Dialer
Mojo touts itself as, "…an all-in-one prospecting system including web-based and mobile CRM, Power Dialer and Real Estate Data." They focus on real estate, saying that they, "… are used by thousands of Real Estate and sales agents…" on their LinkedIn page. According to LinkedIn, they have 7 employees and are located in Littleton, NH. We could not find a listing for Mojo on either of the popular business software & service review sites, G2Crowd.com andCapterra.com.
Kixie
Kixie provides seamless integrated voice capabilities for sales teams. Kixie combines enterprise phone service with rock solid, intelligent CRM integrations and a power sales dialer.
Focused on making sales teams more productive and successful, Kixie offers deep integrations into leading CRMs to ensure the highest possible sales team output.
Kixie calls Los Angeles, CA home. G2Crowd.com lists over 40 reviews for Kixie, with numerous 5-star reviews and an overall rating of 4.2 stars. Capterra.com shows 32 reviews and an overall rating of 5 stars.
Things to Consider for Sales Dialers
Outbound call agents drive your business growth. Arming them with great tools to reach as many prospects as possible accelerates that growth.
The quality of your sales dialer directly impacts how many calls your agents can make, as well as the the quality of the connection on those calls.
What good are calls without robust reporting? When assessing dialers, look at the quality of information the system provides. Call agents should have the capacity to track call history, easily transfer calls to sales staff, and not worry about dropped calls. Managers should be able to quickly assess call agents' performance.
Tightly linking your calling activing to your existing CRM can boost productivity immensely. You want agents to have all the information they need to successfully complete calls, without system delays. This makes a robust CRM integration incredibly important to your agents' success.
The dialer should not only give you all the features needed for success, but come with full implementation assistance and amazing customer support.
CRM Integration and Agent Speed
Mojo Sells CRM Integrations
Mojo lists integrations with a number of real estate CRMs in their FAQ section, including Boomtown, Top Producer, The Wise Agent and Follow Up Boss. They do not list any of the mainstream CRMs that Kixie supports.
Kixie CRM Integrations
Kixie natively connects with many popular CRMs, including Salesforce, Pipedrive, Zoho CRM,Hubspot, Zendesk, Contactually, and many more. Agents do not have to put in extra effort by referring to information in your own databases as well as what's on Kixie.
With this full range of information, agents see a complete profile of the customer, including past contact attempts, voicemails or conversations had with other agents.
The platform's clean look and easy-to-navigate features mean agents can find and act on information quickly. Agents can fully personalize conversations with the prospect on the other end of the line.
Because of this integration, you can use your CRM to create new lead. You can import lists from your internal system so the work done by others isn't lost; it's available for you to access and fully harness when contacting nurturing leads. The API integration of Kixie means agents don't have to worry about technical mishaps while they are on the line with a client.
Customers love it too.
Stephen C. raves in his review on G2Crowd, "Kixie has been a game changer for our business!" and:
I use the Kixie integration with Pipedrive, and the built-in integration is phenomenal. Then I started playing with the webhooks and zapier automation to really take my business to the next level. If you have a sales team and making calls is how you make money, you need to make sure that you implement Kixie into your business.
Arthur C. writes in his review on G2Crowd, " These guys are dynamite – works a treat, boosts my sales, like clockwork!" and:
I use a simple crm called pipedrive which I like, and Kixie integrates with my chrome browser, and with pipedrive. Whenever I call a new number, Kixie creates a new prospect record inside pipedrive. And when I'm using my crm to call either clients or prospects, a single click and kixie is at work a-dialing. It uses my actual cell, so return calls come to the right place. I can send a sms message. I can drop a pre-recorded

voicemail and kixie is doing the work while I'm already off to the next thing. Saves me time, makes my work easier.
Integration to phone service
Kixie Phone Integration
Kixie offers a broad application dialer, appropriate for any business that needs for an auto-dialing system. It offers built-in phone service and can replace an existing application such as RingCentral.
Raymond James I says in his G2Crowd review, " The VERY Best Integrated VOIP click to dial system I have ever used, and I've tried many".
Mojo Sells Phone Integration
Mojo requires users to have an existing phone service such as RingCentral
Onboarding and Support
Mojo Sells Support
Following that it's largely an online system, Mojo's support is in the form of online webinars. These occur twice a day, so new or existing clients can tune in to receive information they need to use the platform. Mojo's website recommends these webinars for clients to get answers to their questions. There's also a contact number and email listed on the website.
Kixie Support
Kixie offers full phone and email support. Customers write overwhelmingly positive reviews of their support experiences. Jorge M writes on his Capterra review,
The customer service is outstanding. We have to make some changes in order to work in my market. The Customer support never left me alone and they treat me as a million dollar bill.