Automated Phone Dialer ! Only 25$ A Month!!
A REVOLUTIONARY NEW WAY TO DIAL!
Dial right through your Excel file!
Instead of uploading your list to a dialer and risk losing any data or notes; we bring the dialer to your data!
Dial right through your Excel file.

Leave a message.

Use it as a caller ID.

Call tracker included for FREE.
Get started today at only $25/month.
DailExcel Automated Dialer is a powerful web based dialer that highly improves efficiency for outbound calling campaigns. Our dialing system allows you to call multiple phone numbers without manual dialing. Save time by being connected only when a live person picks up!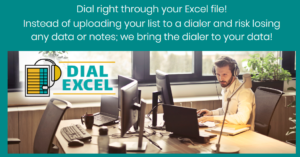 Triple Dialer!
Select up to 3 numbers to be dialed simultaneously and talk to 3x more prospects per hour than using a single line auto dialer.
Run your call center more efficiently
Whether you're an individual calling many contacts from a list or a large call center with hundreds of seats – DailExcel, a web browser and 3 minutes of your time is all it takes to jump-start your campaign.

We also provide:
Video One – The "SECRET" about Inheritance Niche Market >>
http://successorsdata.com/Q-A-Blog/wp-content/uploads/2017/03/Probate-Trust-Inheritance-Property-Opportunities-Overview..mp4
Video Two – Actual Example of a "Trust Deal" with 100K Equity>>
http://successorsdata.com/Q-A-Blog/wp-content/uploads/2017/03/SD-How-to-Get-the-Most-of-the-Successorsdata.mp4
Video Three – How to Find Inheritance Properties in the MLS?>>
http://successorsdata.com/wp-content/uploads/2017/03/Trust-is-a-Standard-Sale-1.mp4
Video Tutorials>>
http://successorsdata.com/probate-data-tutorials/
Also, please visit our other marketing tools:
www.EasyExcelAutomation.com
Redfin or Zillow Scrubber, Google Places List Builder …Tools
www.IQdial.com
$49 a month unlimited call from anywhere in the world.
Phone number or email address append to any list is available at 4 cents each.
Sincerely,
Morry Eghbal
www.SuccessorsData.com
10601 Civic Center Dr.
Rancho Cucamonga, CA, 91730
Bus: (909) 315-5330
SuccessorsData.com
Inheritance Real Estate Property Data for Realtors and Investors.
We are a national provider for Probate, Trust, and Inheritance Real Estate Property Records.
Call Phone
Welcome to the innovative VoIP call service provided by Globfone. You are no longer required to create an account to place a free calls to both landlines and mobile phones.
You need not worry about the rise in bill even as you call phone through Globfone as it is a free service. Now connect to any phone on this planet conveniently and communicate your message without any disturbance through this advanced calling system. Call mobile at any time during the day without worrying about call rates as you can stay connected to one and all through a simple yet effective calling service.
Satisfaction of users is given high priority, which is why you will experience and derive joy from the fact that you can call phone local, national or international through your computer. The number of calls and their duration is limited for an IP address. After this limit has been exceeded, a call can only be placed when the next 24 hours begin. Let's get started, follow these steps mentioned below and place a call through Globfone right now.
Step 1 – Use in appropriate Internet browser

Globfone webphone is really unique because it's FREE and truly cross platform. This is achieved by using multiple different SIP/media engines, suitable for all platform, including:
Java VoIP engine – runs in all java enabled browsers, WebRTC – runs in all modern browsers, Flash VoIP: for compatibility with some old browsers.

Step 2 – Permission dialogue box

If the right plug-in/technology is not fully supported by your browser, an error message is shown and an option to go to its official website to ensure complete functionality. Your browser may ask for permission to use mic and speakers or the Java application of Globfone WebPhone. A checkbox is provided at the bottom of this dialog box, mark it if you do not want this dialog box to show up the next time you use this service. The next time you place a call through the amazing services of Globfone; this application will start quickly without any delay.

Step 3 – Audio devices

Turn on speakers / headset and a microphone. Make sure all audio devices are connected properly and working.

Step 4 – Call phone – use country list

Now if everything is in order, you will notice a country list on right side of the screen. Enter the phone number using your keyboard. You can call mobile or call phone landline so enter the number of the phone you want to call. Enter the number using the international phone number format, by placing respective country code followed by the phone number to which a call will be placed.

Step 5 – Back to Start

The process of dialing is started by Globfone and a counter also appears on your screen to show time duration for which you can stay on this call. Call length depends on various factors – one of them is destination cost and popularity. Clicking on a red 'Hang up' button ensures your call has been disconnected.
For Campaign Managers
No Infrastructure to Buy or Install
HubDialer operates entirely from the cloud. That means you don't nee
d to invest up-front in software or equipment, and you don't need technology experts to get up and running. Simply pay-as-you-go while you're using HubDialer to make meaningful conversations happen.
Convenient Self-Service
Set up your campaigns, work on list and scripts, and review your campaign reports whenever it's most convenient. All you need is your web browser to access HubDialer from anywhere, anytime.
Supervise Campaigns and Make Calls from Anywhere
Run your campaigns wherever you and your callers are located – at home, on break at work, at school, a coffee shop, or all in the same room.
Combine Web and Phone-Only Calling
When organizing volunteers for your campaign, you don't have to worry about who will have access to a computer and who only has a phone. HubDialer's blended campaign capability lets volunteers who are online and volunteers who are phone-only both work on the same campaign, make calls, and log call dispositions. All your data is still rolled up into a single view just like every other HubDialer calling program.
Centralized Web-Based Campaign Dashboard
As a supervisor, you can create, launch, manage, monitor, and report on your campaigns entirely from HubDialer's richly featured campaign dashboard.
Live Call Monitoring
Listen in on your volunteers' calls while they're happening so you can monitor performance, improve scripts, and coach your team to greater success.
Real-Time Results Monitoring
From your web-based dashboard, observe call progress and response re
porting as results are tallied by your volunteers. You can also keep track of the remaining dials in your campaign and drill down on detailed info about your volunteer callers.
Budget Management
During campaigns, you can monitor how many calling minutes remain in your budget, and what your "burn rate" is over time – so you can get the most out of the funds and volunteer resources you've allocated.
Modify Scripts On-the-Fly
As your campaign progresses, HubDialer's monitoring, reporting, and your volunteer's feedback will inform how you can improve your scripts. There's no need to wait – HubDialer lets you update scripts on-the-fly and immediately push revisions to your volunteers via their web browser interface.
Volunteer Re-Assignment
Easily redirect your volunteer resources where they're most needed. HubDialer lets you re-assign volunteers, on-the-fly, to another calling program.
Benefit from the Latest Technology
HubDialer technology is periodically updated with exciting new features that make your campaigns run more effectively and efficiently. Because HubDialer runs from the cloud, new features are made available to you automatically so your campaign can benefit from them right away.